Drive a Delightful Customer Experience with HubSpot Service Hub

HubSpot Service Hub is the customer service tool that gives you everything you need to create a world-class customer experience, deepen relationships, and delight your customers as you scale.
When your service team is focused on delighting their contacts, your customers stay longer, buy more, and refer their friends. What's not to love?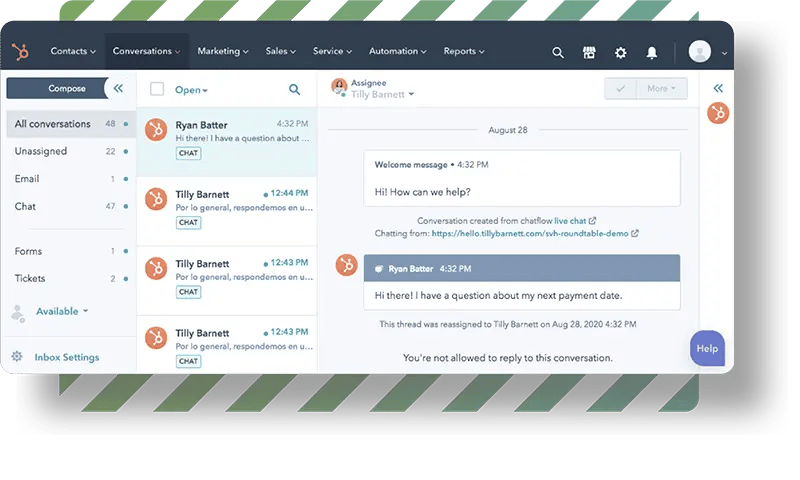 Future-Proof Your Customer Service Strategy

All of your Service Activities in One Place
Starter | Professional | Enterprise
Collaborate and coordinate on all of the activities across your service team with HubSpot's powerful service automation platform as your single source of truth.

Automate Customer Service Processes
Starter | Professional | Enterprise
Ticket routing, escalation, task creation - there's no need for your reps to manage these tasks manually. Leverage the powerful automation capability of the Service Hub to manage ticketing, feedback loops, and more.

Keep Track of Customer Happiness
Starter | Professional | Enterprise
Gathering customer feedback is crucial for good customer service. Track your net promoter scores, onboarding feedback, customer service scores, and more in a single dashboard.

Organize & Prioritize Tickets
Starter | Professional | Enterprise
A shared inbox lets you track, order, collaborate, and deliver on customer needs all in one place. Take notes, add tags, and keep a historic record of updates & issues to make sure everyone is on the same page.

Let Your Customers Self-Serve
Starter | Professional | Enterprise
Turn common tickets into simple, organized knowledge base articles to help your customers to self-serve and deflect queries from your support team.

Measure & Report on Your Impact
Starter | Professional | Enterprise
Track metrics from your knowledge base, report on customer feedback, and more. Create dashboards in your ticketing system to highlight top customer issues and understand agent performance.
Put Your Customer at the Center of Your Business
Delight Your Customers with a Top-Class Support Desk Strategy
Ensure you're supporting the current customers who will drive your future growth with organized customer service that offers efficient support and complete answers. HubSpot Service Hub enables this with:
Support ticket management

Automated service processes

Customer service process documentation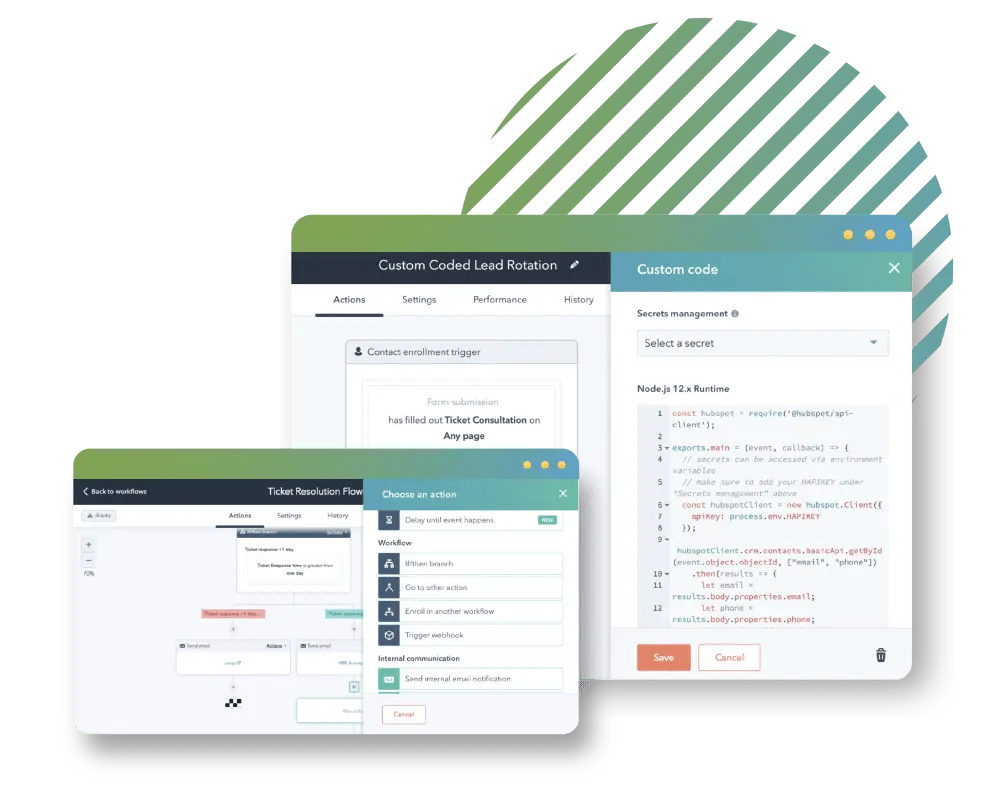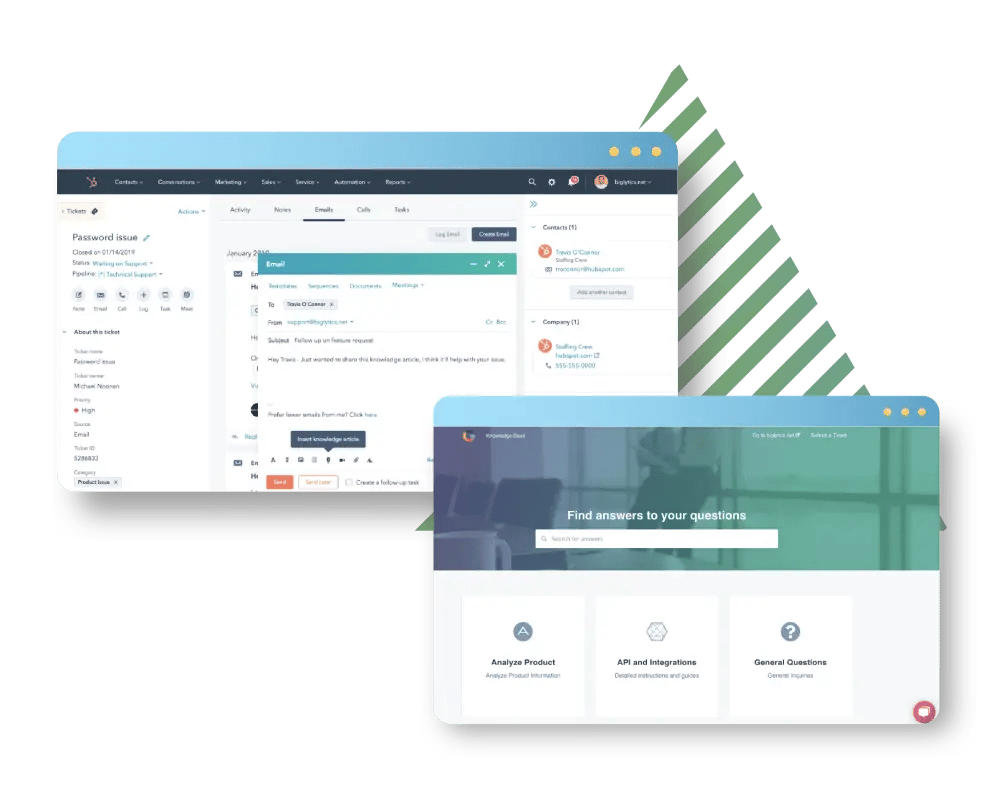 Streamline Customer Interactions with Purposeful Communication
Ensure you have a robust customer communication strategy in place to keep your customers happy. Service Hub enables faster support, less friction, and self-service options including:
Live chat & chatbots

Conversation dashboards

Robust knowledge base functionality
Act on Customer Experience Insights You Never Knew You Had
Measure and understand the impact of your customer success efforts with metrics such as first response time, time to ticket close, and more. With HubSpot Service Hub, get:
Help desk reporting & analytics

A variety of customer surveys, including NPS, CES, and more

Custom objects to store and customize the data you need to support your customers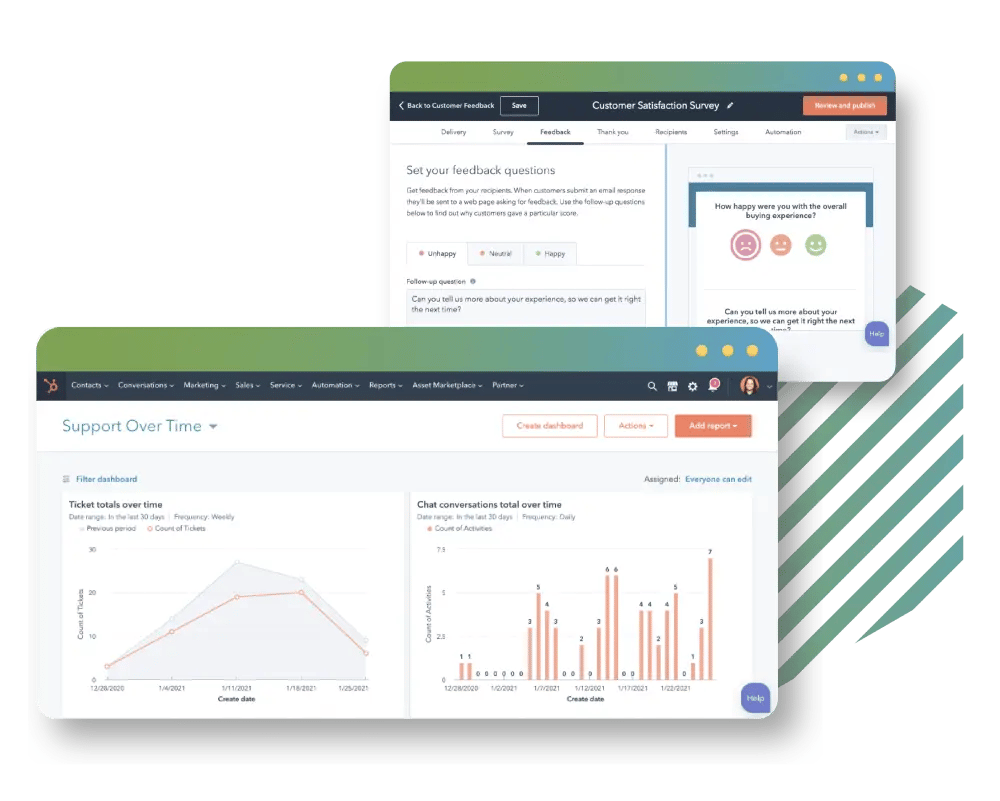 Ready to get started with HubSpot?
Set your team up for Service Hub success
We've helped publicly traded companies, world-changing nonprofits, high-flying startups, and everything in between to purchase, onboard, and get trained on HubSpot. We'd love to help you, too – check out our onboarding packages and let's talk through your use case!

Have HubSpot but need some fine-tuning?
Align, streamline and optimize your CRM
If you're using Service Hub but know you could be using it better, HubSpot implementation is the way to go! Whether you need tweaks, a total overhaul, or have no idea where to begin, let's talk through your HubSpot usage & challenges and see how HubSpot implementation can move the needle for your team.
I'm using other service tools or another CRM right now. Can you migrate me to HubSpot?
Absolutely. The Digital Reach HubSpot team has extensive experience moving customer service teams into HubSpot. We take people off Zendesk, Live Agent, Salesforce, and more on the regular. We'll consult with your team to get an understanding of your processes and service data, then we'll come up with a plan for a seamless HubSpot transition.
Can you train my team on the Service Hub?
All Service Hub onboarding projects include extensive live training – there's no use in configuring a rocket ship for your sales team if they're not empowered to use it. Plus, all of our training sessions are recorded and available on-demand, empowering your team to take training at their own pace. Additionally, when we get "how do I…" questions during a build, we love to use Loom and iorad to provide video tutorials. Those are yours to keep, too!
My team wants to use Service Hub, but I don't have anyone on the team who can manage HubSpot once it's set up.
So your team is excited to use the tool, but there's no bandwidth to manage it or to own it in-house? Not a problem. The majority of businesses we work with are in the same boat, and that's why we offer straightforward HubSpot management packages to suit a variety of needs. Whether you want one of our HubSpot admins on (email) speed-dial for those one-off instances when you get stuck, or if you want more active weekly management, we have a management package to fit. Packages start at $875/mo for one Hub, and no matter which option you choose, you'll find it more cost effective than hiring an in-house HubSpot admin of your own.
Do I need the other HubSpot Hubs for Service Hub to work?
You don't need the other HubSpot Hubs in order to take advantage of the Service Hub. That said, for a seamless marketing, sales, and service experience for your customers, the other HubSpot Hubs are a great compliment and allow the CRM to function at its full potential. Our team works with all of the HubSpot Hubs, so if you have any questions about how the Hubs compliment each other to drive business performance, let us know.
How long would it take to set up Service Hub for my team?
As you might expect, onboarding with Service Hub depends on your specific needs. Do you have ready-made processes that you need to get into Service Hub, or are you starting from scratch and just need best practices? Are you using outside tools that will need to be integrated? Are you syncing with other Hubs? Basic Service Hub onboarding can be completed in 6-8 weeks, and the timelines generally flex from there depending on your needs.
Implementation work in the Service Hub is similarly dependent on your unique needs. Basic Service Hub implementation projects generally run anywhere from 4-8 weeks.