Sales Success Simplified with HubSpot Sales Hub

Our certified HubSpot specialists help you save time and utilize the right tools so you can shorten the sales cycle and close more deals.
We'll work with you to build, manage, and integrate a HubSpot-powered sales tech stack that's aligned to your business goals so you can streamline your sales processes and measure ROI.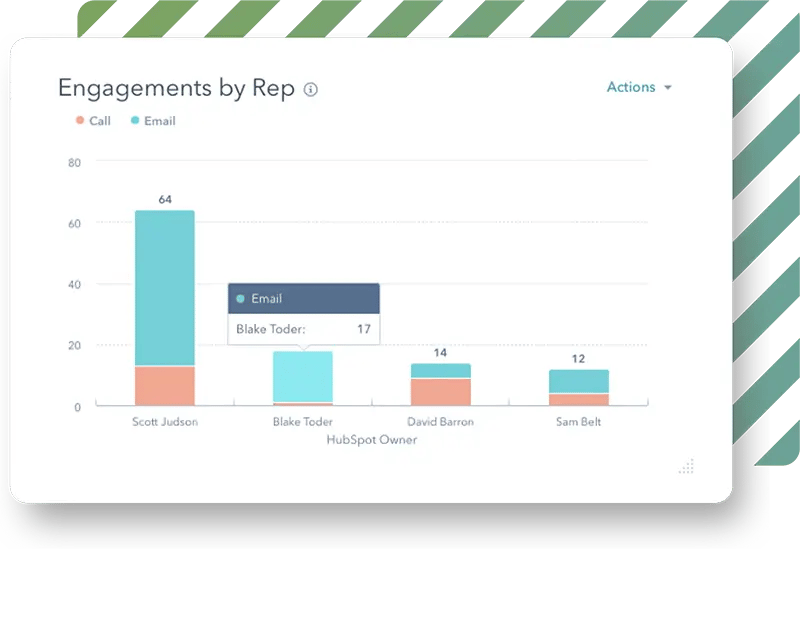 Everything You Need to Empower Your Sales Team

Supercharged Sales Outreach
Take control of your email game with eye-catching email templates, sales sequences that let you personalize outreach at scale, scheduled delivery, and easy analytics tracking – all in the most user-friendly interface you can imagine.

There are worse problems than having too many leads, but there comes a point when your sales team needs to prioritize. With HubSpot lead scoring, let the CRM tell you whether you have a prospect who is worth a follow-up.

Optimal Pipeline Management
See where your qualified leads are in the sales funnel, identify leaks, and check in on the status of all of your current deals from a single view. Create your ideal sales process and add, edit, and delete deal stages and properties without help from IT!

Custom Reporting & Dashboards
See how many deals your reps closed last week, or how close your Account Executives are to quota this quarter. Create custom reports to gain deep insights into your sales org with real-time sales data that's never stale.

Targeted Comms & Follow-Up
Reduce clicks for your sales team with tools that power excellence in sales communication. Need to get on with a prospect? Make yourself a custom meeting link that syncs with your calendar and makes it easy for your prospects to connect with you.

Unified Call Tracking & Analytics
Need to get ahold of a prospect? Use HubSpot's click-to-call functionality and enjoy having the call record forever synced in the CRM so you can go back to it for easy reference – or so management can easily track completed dials.
Maintain a Packed Pipeline with Lead-Gen Strategies That Work
Your prospects don't live in a bubble, so your sales team shouldn't either. The most effective sales orgs work hand in hand with their marketing counterparts to design personalized, asynchronous buyers' experiences. With Sales Hub, you have all the tools to do this and more:
Account-based marketing

Automated MQL->SQL movement & custom actions

Seamless quote creation & payment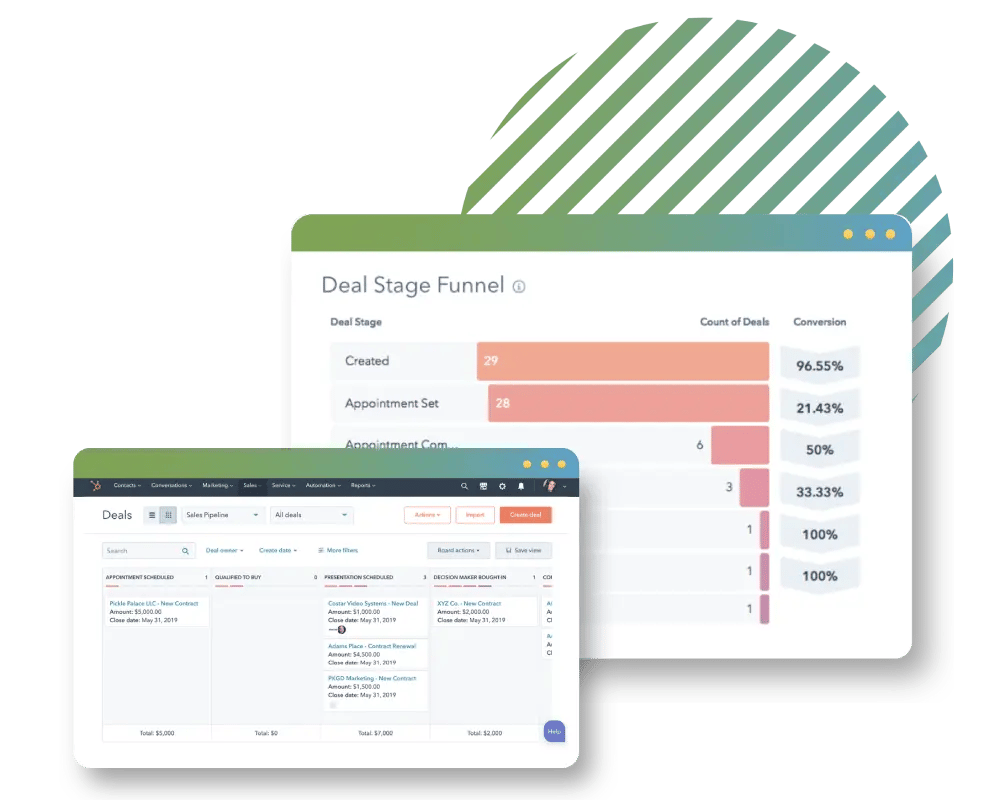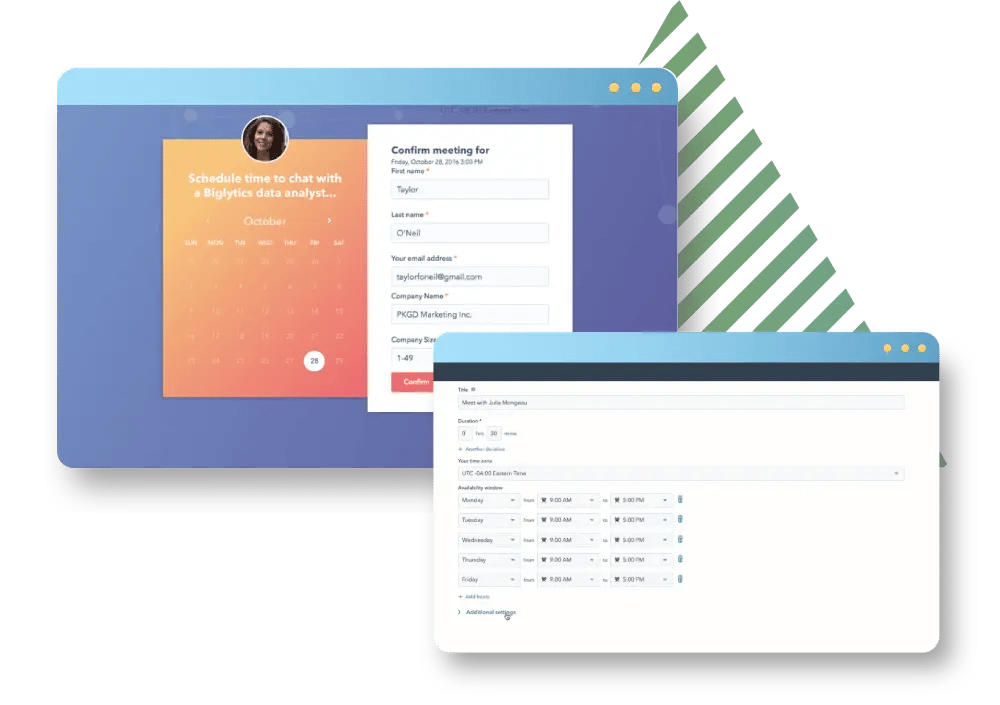 Speed Up The Sales Cycle With Purposeful Communication
The shift towards asynchronous buying means your prospects might not be ready to buy on your pre-determined timelines. HubSpot Sales Hub gives sales teams the tools to meet prospects where they're at with:
Live chat

Sales sequences

Trackable document sharing

Meeting scheduling & custom meeting links

Deal-stage automations
Close More Deals With Streamlined Processes & Sales Enablement Tools
From sales coaching to delivering the right content to prospects at the right time, there's a lot that goes into making your sales team hum. Sales Hub empowers your sales team with powerful sales enablement tools such as:
Predictive lead scoring

Sales playbooks

Forecasting

Call intelligence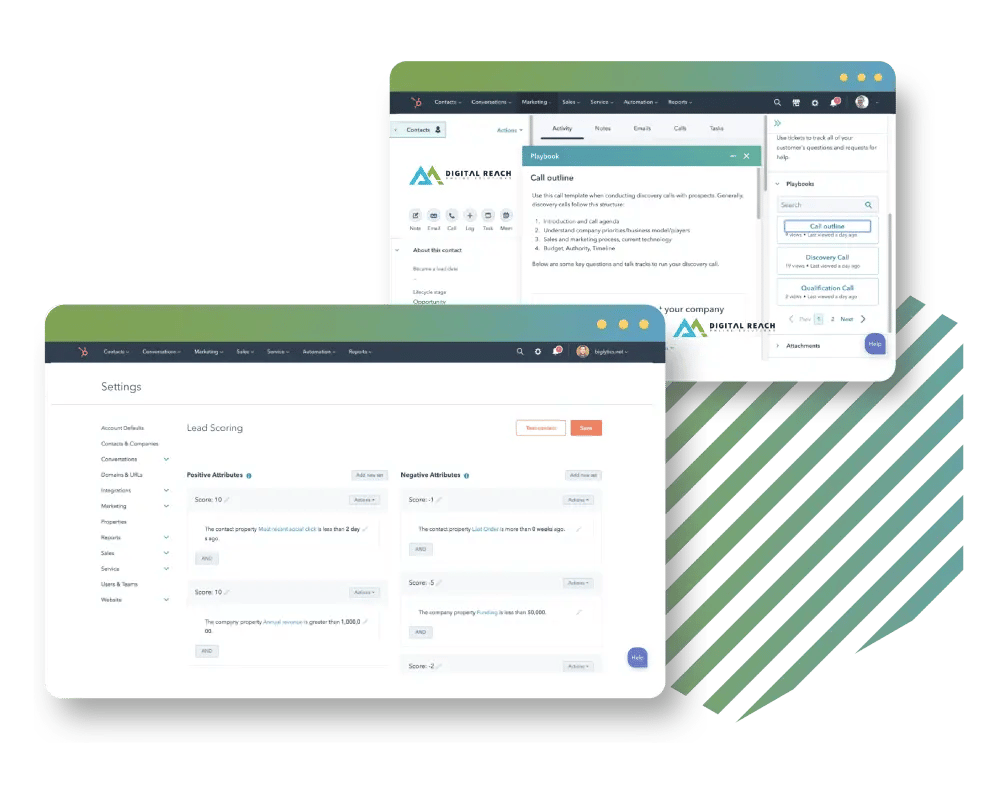 Ready to get started with HubSpot?
Set your team up for Sales Hub success
We help publicly traded companies, world-changing nonprofits, high-flying startups, and everything in between to purchase, onboard, and get trained on HubSpot. We'd love to help you, too – check out our onboarding packages and let's talk through your use case!

Have HubSpot but need some fine-tuning?
Align, streamline and optimize your CRM
If you're using Sales Hub but know you could be using it better, HubSpot implementation is the way to go! Whether you need tweaks, a total overhaul, or have no idea where to begin, let's talk through your HubSpot usage & challenges and see how HubSpot implementation can move the needle for your team.
I'm using other sales tools or another CRM right now. Can you migrate me to HubSpot?
Absolutely. The Digital Reach HubSpot team has extensive experience moving sales teams into HubSpot. We'll consult with your team to get an understanding of where your data lives now and come up with a plan to map all of your fields, data, contracts, and objects to HubSpot for a seamless transition.
Can you train my sales team on the Sales Hub?
All Sales Hub onboarding projects include extensive live training – there's no use in configuring a rocket ship for your sales team if they're not empowered to use it. All training sessions are recorded and available on-demand, empowering your team to take training at their own pace. Additionally, when we get "how do I…" questions during a build, we love to use Loom and iorad to provide video tutorials. Those are yours to keep, too!
My team wants to use Sales Hub, but I don't have anyone on the team who can manage HubSpot once it's set up.
So your sales team is excited to use the tool, but there's no bandwidth to manage it or to own it in-house? Not a problem. The majority of businesses we work with are in the same boat, and that's why we offer straightforward HubSpot management packages to suit a variety of needs. Whether you want one of our HubSpot admins on (email) speed-dial for those one-off instances when you get stuck, or if you want proactive weekly management, we have a management package to fit. Packages start at $875/mo for one Hub, and no matter which option you choose, you'll find it more cost effective than hiring an in-house HubSpot admin of your own.
Do I need the other HubSpot Hubs for Sales Hub to work?
You don't need the other HubSpot Hubs in order to take advantage of the Sales Hub. That said, for a seamless marketing, sales, and service experience for your customers, the other HubSpot Hubs are a great compliment and allow the CRM to function at its full potential. Our team works with all of the HubSpot Hubs, so if you have any questions about how the Hubs complement each other to drive business performance, let us know.
How long would it take to set up Sales Hub for my team?
As you might expect, onboarding with Sales Hub depends on your specific needs. Do you have ready-made sales processes that you need to get into Sales Hub, or are you starting from scratch and just need best practices? Are you using outside tools that will need to be integrated? Are you syncing with other Hubs? Basic Sales Hub onboarding can be completed in 6-8 weeks, and the timelines generally flex from there depending on your needs.
Implementation work in the Sales Hub is similarly dependent on your unique needs. Basic Sales Hub implementation projects generally run anywhere from 4-8 weeks.
Do you offer sales analytics?
We sure do! All of our Sales Hub onboarding packages include setting up sales and CRM dashboards to report on the sales activities taking place across your pipeline. We also offer custom reporting dashboards for more complicated reporting needs. Let us know what you need to track and we'll make sure it's reportable.
Can you help with sales-focused content?
Sure! Our in-house creative team can produce any of the sales assets you need – case studies, white papers, sequences, video, and more.