Marketing Success Simplified with HubSpot Marketing Hub

The HubSpot Marketing Hub has everything you need to get found, engage new people, and nurture them into leads your sales team will love.
Fueled by the world's most powerful CRM, the Marketing Hub allows marketing teams to segment and target audiences, automate nurtures and lead handoffs, create consistent content, and more so they can manage campaigns more efficiently and keep focused on delighting their customers.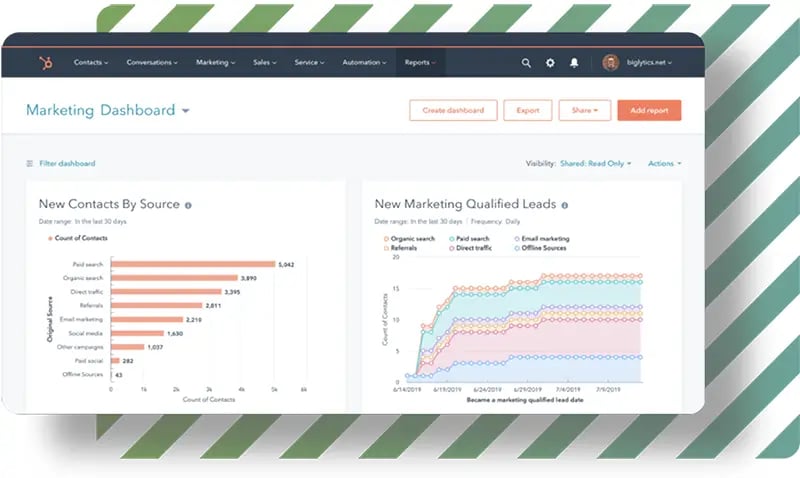 Everything You Need to Empower Your Marketing Team

Personalize Your Marketing Messaging
Starter | Professional | Enterprise
Take control of your email game with eye-catching email templates, drip & nurture series that let you personalize outreach at scale, scheduled delivery, and easy analytics tracking – all in the most user-friendly interface you can imagine.

Create Awesome Content... Without a Developer
Starter | Professional | Enterprise
Intuitive drag & drop functionality means your content marketing efforts just got easier. Create landing pages, email templates, blog posts, and more without outside help or expertise.

Bring All of Your Marketing Efforts into One Tool
Starter | Professional | Enterprise
Gain a one-stop shop for all of your marketing analytics. See which marketing efforts are generating leads, track the channels driving the highest engagement, and monitor your platform performance over time.

Boost Performance with Easy Segmenting
Starter | Professional | Enterprise
Group your contacts in lists based on page views, lead score, last activity, email interactions, form fills, and more to build personal and customized experiences for leads, prospects, and customers.

Gain Insight into Your Customer Journey
Starter | Professional | Enterprise
Map your entire customer journey with easy-to-use Marketing Hub tools and ensure you're meeting your prospects on the right platforms at the right times.

Never Stress Over Your Marketing ROI Again
Starter | Professional | Enterprise
Track multi-touch revenue attribution for all of the marketing content & campaigns your team creates. Report and track the metrics your C-suite cares about.
Unlock Your Growth Potential
Boost Your Web Traffic with Inbound Marketing Strategies
These days, it's not enough to just boost traffic to your website. To really move the needle for your team, you need to get the right audience to your site so that you can improve your chances of turning those users into customers. Luckily, the Marketing Hub equips you with all the tools to do just that, including:
Robust blog tools to help you address the questions your audience is searching for

SEO recommendations to ensure your content is found by your target audience

Smart content that lets you personalize messaging depending on where a user is at in your funnel

Lead magnets that help you add contacts to your email lists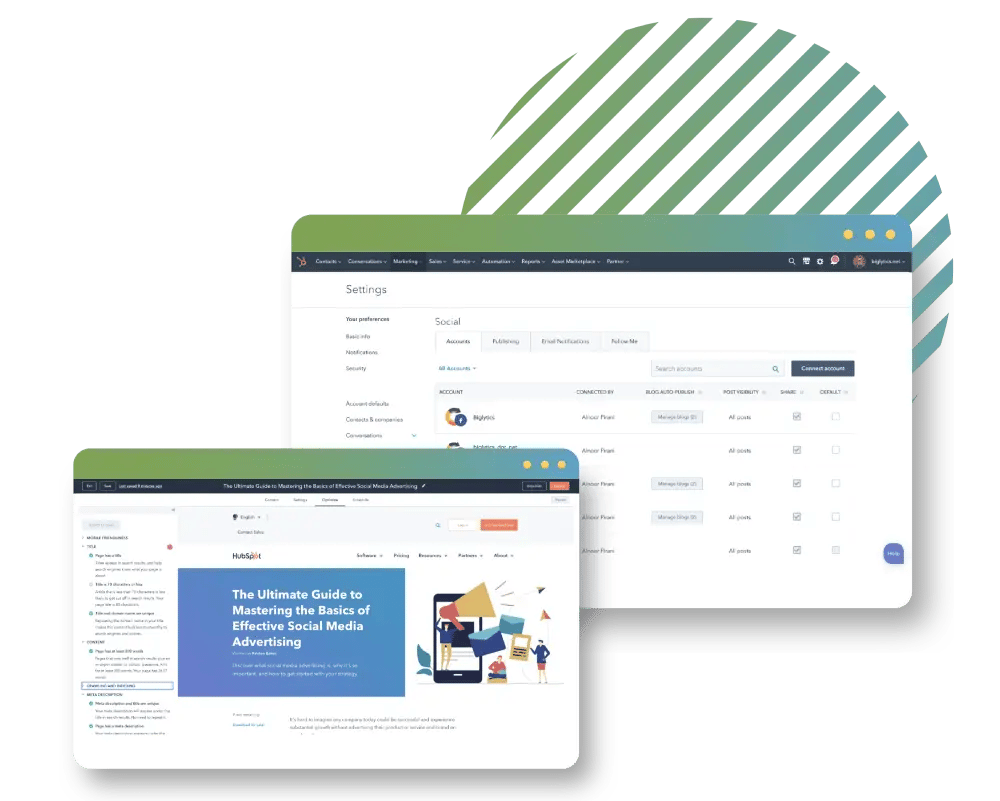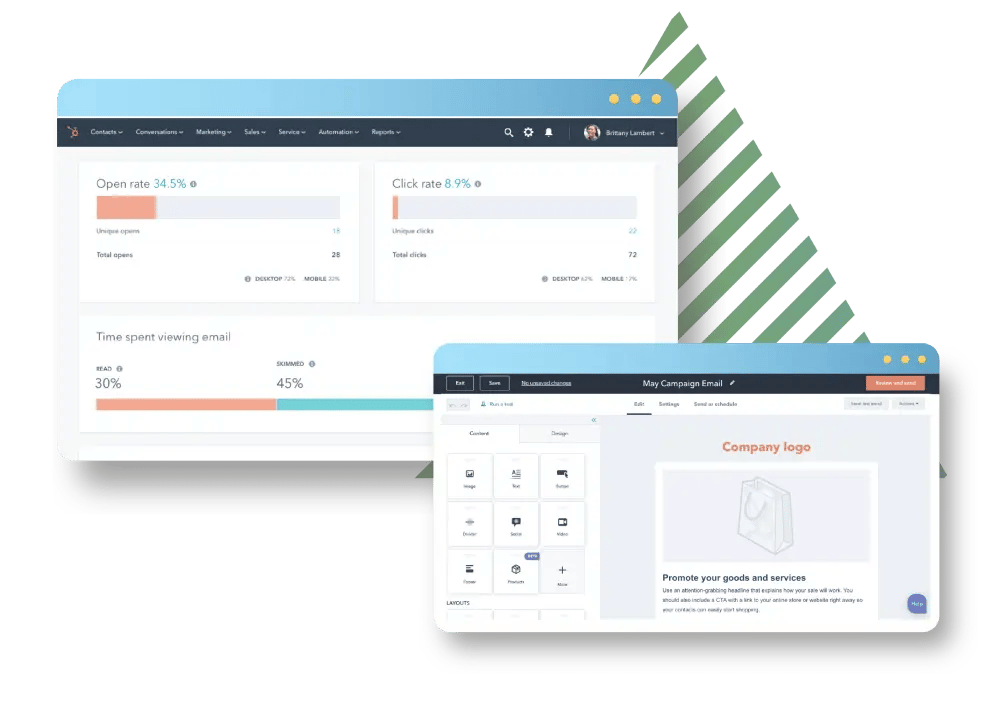 Nurture Your Leads To Boost Sales
The shift towards asynchronous buying means your prospects might not be ready to buy on your pre-determined timelines. The Marketing Hub equips your marketing team with the tools they need to nurture those leads with valuable information throughout the buyer's journey.
Branded email templates

Marketing emails triggered by specific user actions

Email personalization that lets you send content you know the reader will be interested in consuming

Email campaigns to promote products & services
Align Your Internal Teams To Power Revenue Growth & Customer Satisfaction
Marketing and sales alignment is crucial if you want to delight leads and customers alike. Marketing needs to have the pulse on who they are targeting with content, and sales needs to be fed a steady stream of sales-ready leads. Thankfully, Marketing Hub makes alignment easy with:
360-degree visibility into each contact's interactions with your company

Communication loops that make it easy for team members to provide feedback on marketing assets

One-click tagging to let colleagues in other departments know what's going on with a contact

Robust, customizable dashboards to track your most important metrics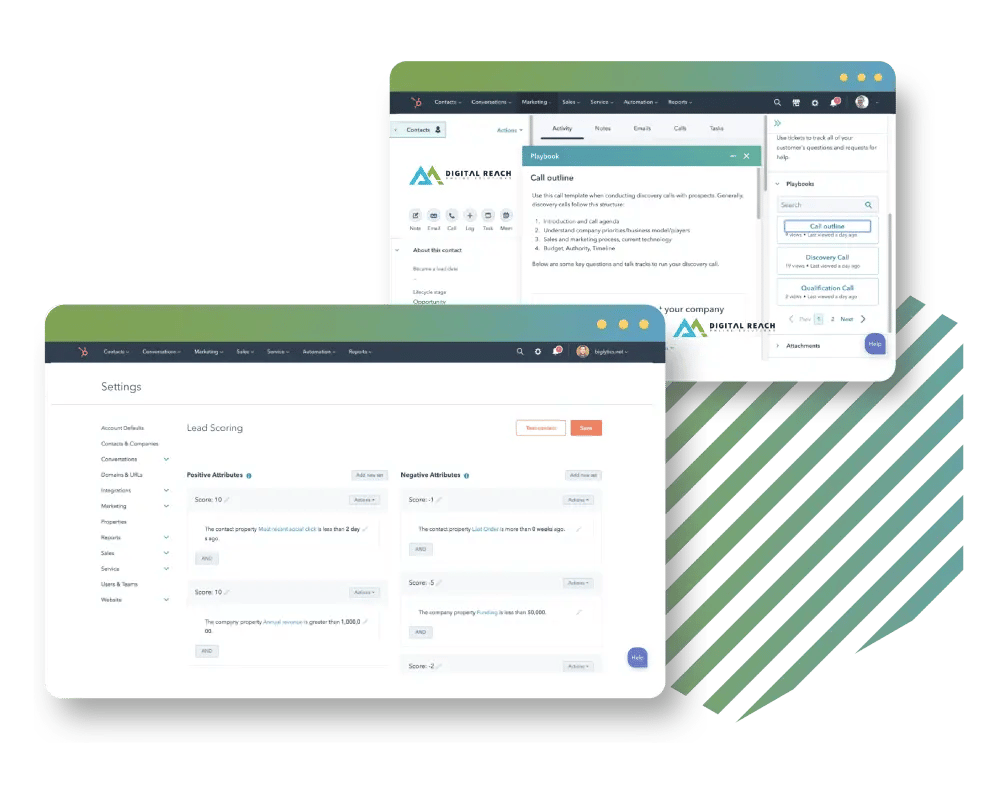 Ready to get started with HubSpot?
Set your team up for Marketing Hub success
We've helped publicly traded companies, world-changing nonprofits, high-flying startups, and everything in between to purchase, onboard, and get trained on HubSpot. We'd love to help you, too – check out our onboarding packages and let's talk through your use case!

Have HubSpot but need some fine-tuning?
Align, streamline, and optimize your CRM
If you're using Marketing Hub but know you could be using it better, HubSpot implementation is the way to go! Whether you need tweaks, a total overhaul, or have no idea where to begin, let's talk through your HubSpot usage & challenges and see how HubSpot implementation can move the needle for your team.
I'm using other marketing tools or another CRM right now. Can you migrate me to HubSpot?
Absolutely. Our HubSpot specialists have extensive experience moving marketing teams into HubSpot. We'll consult with your team to get an understanding of where your data lives now and to come up with a plan for how we'll map all of your emails, templates, objects, dashboards, and more to HubSpot for a seamless transition for your marketing team.
Can you train my marketing team on the Marketing Hub?
All Marketing Hub onboarding projects include extensive live training – there's no use in configuring a rocket ship for your team if they're not empowered to use it. All training sessions are recorded and available on-demand, empowering your team to take training at their own pace. Additionally, when we get "how do I…" questions during a build, we love to use Loom and iorad to provide video tutorials. Those are yours to keep, too!
My team wants to use Marketing Hub, but I don't have anyone on the team who can manage HubSpot once it's set up.
So your marketers are excited to use the tool, but there's no bandwidth to manage it or to own it in-house? Not a problem. The majority of businesses we work with are in the same boat, and that's why we offer straightforward HubSpot management packages to suit a variety of needs. Whether you want one of our HubSpot admins on (email) speed-dial for those one-off instances when you get stuck, or if you want more active weekly management, we have a management package to fit. Packages start at $875/mo for one Hub, and no matter which option you choose, you'll find it more cost effective than hiring an in-house HubSpot admin of your own.
Do I need the other HubSpot Hubs for Marketing Hub to work?
You don't need the other HubSpot Hubs in order to take advantage of the Marketing Hub. That said, for a seamless marketing, sales, and service experience for your customers, the other HubSpot Hubs are a great compliment and allow the CRM to function at its full potential. Our team works with all of the HubSpot Hubs, so if you have any questions about how the Hubs complement each other to drive business performance, let us know.
How long would it take to set up Marketing Hub for my team?
As you might expect, onboarding with the Marketing Hub depends on your specific needs. Are you starting from scratch and just need best practices? Are you using outside tools that will need to be integrated? Are you syncing with other Hubs? Basic Marketing Hub onboarding can be completed in 6-8 weeks, and the timelines generally flex from there depending on your needs.
Implementation work in the Marketing Hub is similarly dependent on your unique needs. Basic Marketing Hub implementation projects generally run anywhere from 4-8 weeks.
What if I onboard new marketing employees - can they use Marketing Hub?
Any new marketers you hire can be HubSpotting in no time. The trainings that we provide – whether during onboarding or an implementation project – are recorded and available to you on-demand, meaning you can put your new employees through their paces as needed. Aside from that, our ongoing HubSpot management packages include onboarding support for new employees.
Do you offer marketing analytics?
We sure do! All of our Marketing Hub onboarding packages include setting up marketing and CRM dashboards to report on the marketing activities taking place across your organization. We also offer custom reporting dashboards for more complicated reporting needs. Let us know what you need to track and we'll make sure it's reportable.
Can you help with marketing content?
Sure! Our in-house creative team can produce any of the marketing assets you need – case studies, white papers, video, email templates, landing pages, ads, and more.